---
The Reginald Buller 21-inch Visitors' Telescope
---
The magnificent Buller 21-inch Visitors' Telescope is the only one at Mount Laguna Observatry that is fitted with standard eyepieces for direct viewing of the night sky. Astronomy students from SDSU General Education classes and labs, and visitors from special SDSU public outreach programs, view, with remarkable clarity, anything from craters and rilles on the moon, the planets, to rich nebulae, to remote galaxies. The telescope was built in 1950 by JW Fecker Inc.
---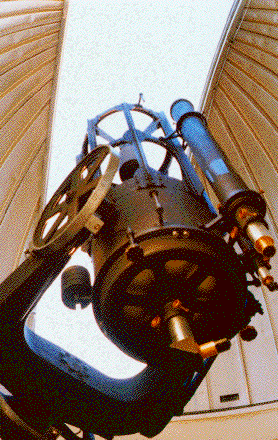 The telescope was generously donated to Mount Laguna Observatory by Reginald F. Buller, commemorated in plaques on its mounting. The dedication plaque for the observatory is also mounted here within the dome.
---

Read the commemorative plaques.

More details about the 21-inch Telescope..

Step outside the dome.

Back to the touch sensitive map

Back to SDSU Astronomy Dept. - Mount Laguna Observatory home page
---